Welcome to new website for Federation of European Deer Farmers Associations
Welcome to the FEDFA website.

The Federation of European Deer Farmers Associations was established in 1990 and now represents the deer farming industries of the following 18 countries: Austria, Benelux (including Belgium and the Netherlands), Czech Republic, Denmark, France, Ireland, Italy, Latvia, Lithuania, Norway, Poland, Slovak Republic, Slovenia, Spain, Sweden, Switzerland and UK.
FEDFA has good lines of communication with all members and with appropriate authorities in Brussels within the EU. FEDFA has been active in helping and advising on the implementation of EU legislation affecting deer farmers.
In addition, FEDFA promotes improvements in deer farming and coordinates action on welfare, breeding and disease control measures with particular emphasis on research. Recently it has also turned its attention to the all important topic of marketing.
Membership is open to all EU national deer farmers' associations and other European countries with Management Committee approval. Although national associations must continue to be responsible for the interests of their own members, FEDFA is recognised as the first point of contact for matters affecting deer farming on a European and International basis.
The Adminstrative Headquarters has been established in Brussels but the Presidency circulates round member countries and is currently held by Czech Republic.
FEDFA is making a positive contribution to the future of this growing industry and is seeking to increase this influence by attracting members from all European countries both inside and outside the European Union.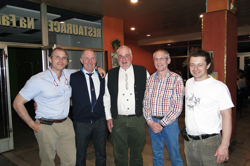 FEDFA:s NEW PRESIDIUM
2014-2015

From left to right:
Tomás Landete Castillejos 1st Vice President
Morten Nystad President
Klaus Uwe Joerß 2nd VicePresident
Asger Andersen Treasurer
Radim "Maugli" Kotrba Secretary General

More information about the presidium HERE
Earrly summer is a wonderful time when the calves born in the springtime show up in groups, almost as they are attending a "kindergarten".
More videos is availiable HERE © Rolf Eriksson 2012
The slide show above shows a small number of photos from our photo gallery.
CLICK HERE to se all the photos availiable.
Below is an example of an ad with a link to the companys website ↓↓↓