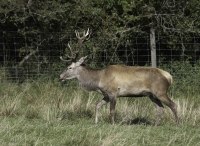 Autumn meeting i Denmark 2007
The meeting started in the evening with a short Conference chaired by Dr John Fletcher.
The majority of the second day were spent at "Skandinavisk Dyrepark" . a large park with nordic animals in a very pleasant environment. The animals have a lot of space to live in. We were guided by the founder and owner - Mr Frank Wiig Larsen - a well known person among deer farmers in Scandinavia.
In this park they have one of the world's best places for captured polar bear.

The third day we visited a red deer farm in the very south of Denmark, close to the German border. Here we had a close look at the newly built abattoir and had a lovely lunch (venison) at the small restaurant managed by the farm owner Mr Mogens Nielsen.
//Rolf Eriksson