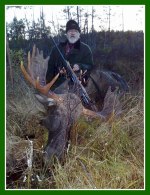 As developer and temporary webmaster of this new website I have taken the liberty to publish some of my own photos. The majority of them are shot in my home country Sweden.
If you wish to see more photos and video from the same photografer - please visit: www.backahojden.se
Along side with deer farming, photografying and filming, webmaster is also a dedicated hunter.

We live in the best part of Sweden with the most dense populations of deer (fallow and red), lots of moose and wild boar.

The moose bull in the photo to the right I shot on my own property in 2008. I was out on my own specifically to try and shoot this bull. I had seen him earlier on two previous occassions the week before and I thought I knew in wich area he was.
Below is a photo (from helcopter) of parts of my deer farm and deer. It is shot at sunrise on a very cold day in January.